HOME GYM DESIGN
If you're looking to design a home gym with modern gym equipment that is technologically advanced, stylish and functional then we can guide you through the selection process to ensure it is delivered and fitted-out to your specific requirements.
Our dedicated home gym design team will provide you with bespoke 2D and 3D images of your home gym, and video walk-throughs, so you can visualise how the end gym design will look on completion.
We have extensive experience and knowledge on the best home gym equipment on the market and work closely with a number of leading luxury gym equipment brands, such as Technogym and Life Fitness. Together we offer a home gym design service that is professional, bespoke and seamless from start to finish.
HOME GYM DESIGN PROCESS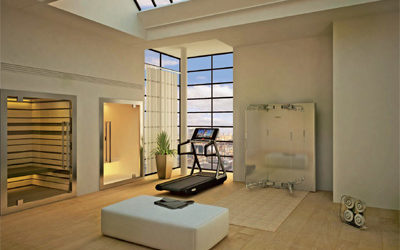 From the initial home gym design brief consultation we listen carefully to your home gym design ideas, and make sure we clearly understand what you would like to achieve. We then put together several home gym design options and layouts giving you the chance to see your home gym design with all the gym equipment in situ.
Once you are happy with the overall home gym design and layout we then provide you with a quote on the home gym equipment you have chosen, and any other work you may require such as flooring and mirroring. The home gym installation team will deliver and assemble all the equipment, and as part of our one-stop shop home gym design service we can also provide personal training programmes so you can make the most of your home gym equipment.
HOME GYM EQUIPMENT
Choosing the right home gym equipment is imperative to ensuring your home gym is utilised and if there are a number of different users with different fitness goals then it is essential that the home gym equipment satisfies the needs of all users.
We have the industry knowledge and strategic partnerships with the best home gym equipment manufacturers in the UK. Also, because we design and operate our own gyms with some of the best educated trainers in the UK, we can also provide you with detailed gym workouts and advice so that you make the most of your home gym equipment.